Christmas is coming to Salento, Puglia!

As December comes around, Salento is enchanted…the alleys are coloured by soft and warm lights, the smoke rising from chimneys dye the dark and starry sky, Christmas songs float over the air and the squares are adorned with charming Christmas craft markets and beautiful cribs.
Cozy Salento is the perfect location for traditional cribs indeed: many towns join the magic tradition of the cribs, exhibiting artistic miniature Nativity scenes or performing living Nativity scenes, i.e. real scrupulous reproduction of Roman historical settings!
One of the best examples of the Presepe Vivente (Living Crib) takes place in Tricase – the Palace of Herod, the Roman houses, the synagogue with costumed Roman soldiers a, the grotto of the Nativity, the flame of Light of Peace, coming every year from Bethlehem, are worth the visit.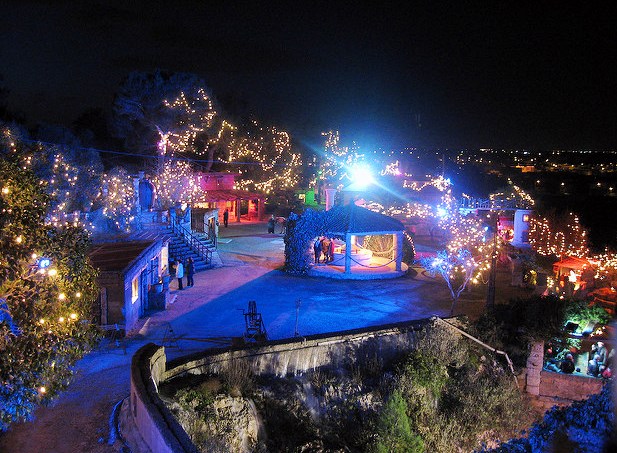 No surprise then if Tricase is also called the Bethlehem of Italy, for the intimate and delicate atmosphere the famous crib creates!
If you are looking for Christmas presents and dream of the lovely smell of a Christmas tree or the lovely sound of Christmas carols, this is also that wonderful time of year when you can visit the beautiful Christmas markets.
Salento is popular for its fabulous beaches and crystalline sea, but what most visitors appreciate is the artisan taste and traditions you can find in this genuine region: wonderful craft and artisanal items, as well as local gastronomical and wine products, are the absolute protagonists of Salento Christmas markets.
During Christmas time you can find more than 80 Salento artisans exposing at the Natale al Borgo in Muro Leccese, crafts market and an exhibit of traditional tambourines from all over the world in Melpignano, eco-friendly market with local legumes (that you cannot find anywhere else!) and food festival in Zollino, traditional lights festival in Scorrano, papier-mâché fest in Lecce and traditional local Christmas market in the charming Otranto!!
These are the ingredients that make Salento one of the best destinations for your perfect Christmas and New Year holidays .