Local dishes have a direct connection to folkloric tradition in Italy and Puglia is no exception to this. If you spend Holy Week in Puglia, as well as rediscovering centuries-old religious traditions, you will also get to taste typical foods of the period. A perfect example of this is cuddura, a big circular sweet pastry biscuit which has in its centre varying, but always odd, numbers of hard boiled eggs.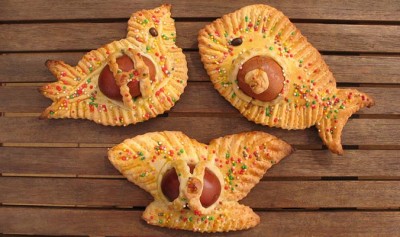 Coddura or cuddhura, is a typical south Italian sweet pastry made at Easter. In Puglia and Sicily, it is still the most popular Easter pastry. The origin of this particular tradition could well date back to Roman times when special dishes were made to elicit the favour of the gods and were taken into temples dedicated to Ceres and Proserpine.
Years ago, during Lent, people gave up many kinds of food including meat, eggs and cheese. At the end of Lent these foods could be eaten again, with eggs being particularly popular in Easter sweet dishes.
The egg is an ancient and important symbol associated with fertility. The shape of the cuddura is not just circular, you also find it shaped like a campanello (bell), to welcome the risen Christ, a panarieddu (basket) for abundance, a gadduzzu (hen or dove) for boys, a pupa (doll) for girls and a cuore (heart) for loved ones.
Little more than a century ago, cuddure were love tokens made by girls of marriageable age for their future husbands, for a happy life and lots of children. This custom, although subsequently adapted to incorporate Christian symbolism, persists even today, although instead of cuddure, engaged couples give each other a lamb made of marzipan, the classic symbol of Christ.